Jeweled Key Across The Obelisk Unlock all Characters Guide 2022. A new character is unlocked in a video game is the best feeling ever. It's thrilling to consider how trying a different gameplay style can alter how you play the game. In video games, character unlocks have always been a major selling feature. Therefore, having the option to do so in modern single-character-focused games is always welcome. Numerous characters are available for unlocking in Across the Obelisk. Additionally, you can employ them to alter the gameplay for your group. We'll describe those characters and how to unlock them in this tutorial.
How To Unlock Zek Jeweled Key Across The Obelisk
During Act 1 of the game, go to the Main Road node to unlock Zek. You must make sure that the node is marked with the common event "Grave on the road." – Jeweled Key Across The Obelisk.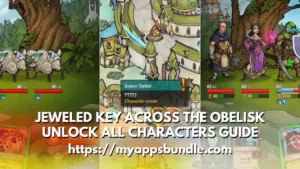 This is due to the fact that uncommon or epic events on the same node have various dialogue and narrative options.
Once there, choose [Profane] to obtain the Jeweled Key by selecting that option.
Be aware that doing so will incite a battle with the sheep, which you must win in order to obtain the key.
Place the chest on the ground, then head for the blue doorway marked on the map.
The Sewer Outlet node on the map can be unlocked using the Jeweled Key by going to the blue portal once Act 1 is finished.
Here, you must choose [Enter] or [Leave] with the Jeweled key option next to it in order to give Zek the key.
We shall present them to you in order to demonstrate the characters you may unlock and how to do so. Jeweled Key Across The Obelisk – In a table for simple reading.
| | |
| --- | --- |
| Magnus | Starting character |
| Andrin | Starting character |
| Evelyn | Starting character |
| Reginald | Starting character |
| Heiner | Act One is complete when you choose the Red Portal to complete his quest from the Crumbling Tower. Pass through the gates of Kuzam'Dhar and eliminate all the adversaries there. |
| Grukli | Act One: Complete Act One by passing through the Green Potal, then obtain the Big Fish quest item from the Small Lake. Present the item to Grukl at Waterfall Ledge. |
| Bree | After Acts One and Two are complete, select the Blue Portal. Assume Bree's Grove task. In Act 4, defeat the Dawn and Dusk. Select the top entrance to the Garden, then sow Ylmer's Seed there. |
| Thuls | Complete Act One and enter the Green Portal to obtain his mission from the Water Mill. Visit the Spider Lair, then beat the last boss there. |
| Sylvie | Act One's Forest Glade bottom path should be reached. Fight for or take the Moonstone to complete your collection. Act One is finished, so enter the Blue Portal. Go to the Owl Guardian and find Sylvie. Give her the Moonstone. |
| Gustav | Act One is over, then select the Green Portal. Visit the Lonely Rock to fulfill his mission. Go to the Blue Portal after completing the Act. Go to the Left Wing of the mansion after entering. |
| Cornelius | Act One's River Bridges are where he begins his mission. Act One is over; proceed to the Red Portal. Complete the battle by going to the Cult Temple – Jeweled Key Across The Obelisk. |
| Wilbur | Get his task in the Red Portal's Rest Area. Take the top path to the Library after Act Four. Take the book about ancient technology and choose the final choice. |
| Zek | Act One: Go to the Main Road To obtain the Jeweled Key, select the profane option. Go to the Blue Portal after completing the Act. Deliver the key to Zek at the Sewer Outlet. |
| Ottis | Act One's Isolated Chapel is where you can find his quest. Battle Yogger at the Bandit Camp there. |
| Malukah | Act One: Pass through the Suspicious Hatch Act One is finished, so enter the Green Portal. Complete the mini-dungeon and battle Belphyor. Belphyor's Horn and a boat should be purchased to be brought to her business. |
| Nezglekt | Act One: Finish Act One and pass through the Red Portal, then visit the Stargazer at Riverside Camp. Go to the campsite and consent to bringing the object to Act Four there. Act IV: Visit the Airship |
Check Also: