FRP Bypass APK Download (Free 2022 Bypass App). Global smartphone adoption is rising, and current mobile manufacturers' attention is shifting more toward cutting-edge technology. Around the world, new devices with the newest technology are being introduced, with Android smartphones being the most well-liked.
Most people prefer using Android over other devices with TikTok APK because of how flexible it is. However, when it comes to the security of their devices, the Android OS is also highly tight. The login information for the Google account previously used on the same device is required each time a user resets his device to factory settings.
What is FRP Bypass APK?
If you're having a problem similar to this, you can try the FRP Bypass app. Currently, one of the greatest programs for getting beyond a device's factory reset protection process that could lock you out is FRP Bypass. Although there are various tools and apps available for it, utilizing them could brick your device, in which case you would need to take it to a repair facility.
Instead, you can bypass the login process by using the FRP Bypass software. The design of this software enables the user to log back into the device without using a password by turning off the service that requests login information.
Similar Apps:
Screenshots and Images of the App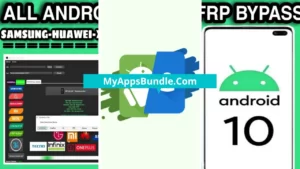 Features of FRP Bypass:
Quick Operations
The majority of the bypassing and rooting procedures take a long time. You may find some of the processes to be somewhat complicated if you are performing them manually. It is now simpler to go around the FRP lock on your device thanks to the FRP Bypass App APK. It won't take more than a few seconds to complete the process, which is rather basic. Using this program will be very helpful for your needs if you are weary of attempting difficult methods because it will enable you to finish the bypass process in a matter of seconds.
Easy-to-use Interface
One should be able to simplify anything when it comes to difficult procedures like the FRP bypass. It is simpler to use this app because of the user-friendly layout, and you may unlock your device's FRP lock with just a few touches on the screen. One can quickly finish the procedure of bypassing the FRP lock within a few seconds thanks to the straightforward user interface.
Conclusion
One of the special apps with a single purpose is FRP Bypass. However, it is one of the most helpful apps on Android because of its distinctive feature set, which is assisting millions of users. This app is what you need if the Activation lock has left you frozen on the Android welcome screen.