Users may quickly monitor the security of their Android devices using a security record provided by the HushSMS Apk. Husham's web designers created this application. With the use of this tool, users may quickly remove their Google accounts from Android smartphones using any other device.
Users may get over the account FRP verification lock using HushSMS Apk. On many Android smartphones, HushSMS is a security feature that protects the user and device information.
HushSMSk features a very straightforward user interface that enables the user to effortlessly browse through the program and carry out any action without the need for additional instructions or manuals. As soon as a user establishes and adds a Google Account to their Android smartphone, the HushSMS search lock is instantly activated.
What is HushSMS Apk?
Use this intriguing Android software to unlock or go beyond any forgotten password security on your smartphone. This application is the greatest one that has been created just for Samsung mobile phone users.
Its base is technologically advanced and sends coded communications to go over any FRP lock. The messages may be transmitted from any Android phone to the locked device since they are organized into modules and scripts.
With the use of this magnifying app, you can unlock any security more effectively than mobile experts. By applying algorithms, HushSMS is the most straightforward approach to getting around any protection.
Why Unlock FRP?
A significant portion of Android users loses their passwords, passcodes, and pattern locks. The majority of applications simply provide fingerprint locks. Your fingerprint may occasionally fail to function because of scratches.
What safety measures should be taken at that time? You will specifically transition to computer specialists in mobile marketplaces. With scientific advancements, it has become simpler thanks to the existence of an Android app. It can be used for tricks. With HushSMS Apk, you guys can astonish someone on the other side of the world without spending a dime. It may be downloaded without a computer, saving you money and providing a variety of benefits.
HushSMS Apk Screenshot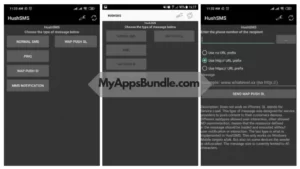 Features of HushSMS Apk
All Samsung phones running Android OS 6 or higher had their FRP removed.
The finest app for this purpose is this one. Using an app is said to be the simplest approach to getting around app lock.
The program is incredibly user-friendly and compact.
No, utilizing the app comes with additional charges. You may use and download it for free.
The program is accessible to everyone.
Every day, more models are added.
Without compromising user data, information will be transferred by push SMS to a different phone.
On hardware that is compatible with both native and non-native phones, root access is not necessary.
Conclusion
This review should have answered all of your questions about the HushSMS Apk; go ahead and download it for Android and PC and start using it. It is safe to download APK files from MyAppsBundle.Com, which has practically all programs from every genre and category.
You May Also Like to Download