Remote 1 APK-Before using FRP's features, it's critical that the user understands what it is and how it works. This option is called Factor Restore Protection. It comes pre-installed on all Android handsets.
Adding multiple Google Accounts and resetting the device to factory settings is a fantastic alternative for mobile users who want to simply reset their devices. While launching the app, the business left the settings in place. As a result, if you utilize this option, all of your data and settings will be reset.
Refresh the device to improve its performance. Over time, the software, including the applications, will be updated. This may cause the gadget to slow down and function poorly. Restoring the device to factory settings will enhance performance in this instance.
What is Remote 1 APK?
This Remote 1 Apk's main goal is to allow bypass. If APK users try to reach the factory reset portion of earlier Android mobile devices, they will be able to easily control the device and install a new Google Account.
But it won't work because current versions have rigorous security mechanisms in place, such as firewalls that prevent them from doing so without permission or using deceptive methods like false App Store reviews (which are surprisingly accurate).
To make things easier for mobile users, the developers created a new tool that allows them to bypass the factory reset procedure with ease. This Remote 1 App lets you join multiple Google Accounts and offers the same security features as the Play Services app on your phone or tablet.
Remember that the next step is to circumvent the factory reset, which will necessitate the use of this tool. Add another account after the first is finished.
Uninstall any prior version of Remote One before deleting it altogether once you've uploaded your new credentials to the Remote 1 software on your smartphone or computer (or both!). Otherwise, they will once again abuse Android's native services.
Screenshot of Remote 1 APK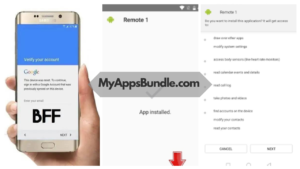 Remote 1 APK Key Features
There's nothing to notice.
After downloading the app, you can choose from a variety of slot and card games.
There are various types of games.
Third-party advertisements are not permitted.
There is no need to subscribe.
Free to download.
The interface of this game is mobile-friendly.
If you're still connected to WiFi, click next and finish up the process.
Conclusion
Remote 1 Apk is the greatest solution for removing Google protection quickly and effortlessly. However, using this program for any illicit conduct may result in legal issues. So, make good use of it and keep out of trouble.
You May Also Like to Download