Garena Free Fire is one of the most popular battle royale games for Android, ranking among the most downloaded games ever for smartphones. In fact, it won the year's top game award in 2019 thanks to widespread public voting. The game's popularity is so great that millions of people visit its servers every day to play with it and compete on various maps to defeat their foes and gain points in the ranking.
What is Robar Cuentas FF Por id Apk?
An Android hacking application called Robar Cuentas FF Por id APK claims to hack and retrieve accounts for Garena Free Fire. The application was created with the specific purpose of hijacking several Free Fire accounts and gaining unrestricted access to all features.
The most frequent users of Garena FF are those that enjoy spending time on the site. The game offers free-to-play aspects, but users may also access in-app payment options. Players must therefore pay real money to use those services.
There are players that enjoy gambling but don't want to play the same game repeatedly. In order to pass the time, they spend some money on the game and play for a while.
Similar Apps:
Screenshots and Images of the App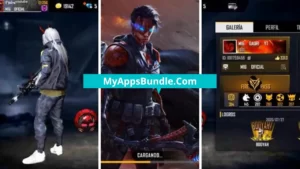 El problema del robo de cuentas – Robar Cuentas FF Por id APK
The theft of accounts using applications to steal Free Fire accounts is a real problem for the game's players, who frequently found themselves in a situation where they needed to contact the support team only to discover that no one was available to assist them. The Garena Free Fire support service frequently is unable to prove that the account has been stolen and is therefore unable to return it to its rightful owners.
¿Qué es FFH4X para Free Fire?
One of the best mods for the Garena Free Fire is FFH4X, which allows you to enjoy some of the best changes to the game, such as aimbots, parallax tricks, night mode, and movement improvements. It's a comprehensive Robar Cuentas FF Por id APK that will help you alter the Garena Free Fire to gain a number of competitive advantages that other players won't have, allowing you to win more easily in your matches. If you don't use it, though, you'll lose out significantly. Some of its key characteristics include the following:
Doble altura de salto.
Cuando se detuvo nuestro objetivo de mejorar la recepción.
El efecto es aumentar el daño.
Modo nocturno.
Muro de escalada.
Conclusion
One of the simplest ways for users to gain access to Free Fire's premium features is to use the Robar Cuentas FF Por id APK. Use this tool only on accounts that have been abandoned if you are ready to give it a try. You won't be impacted any more than with an active account.