Technocare Tricks APK is a well-known program that allows Android users to overcome security protections that have been forgotten. In comparison to other companies' cell phones, Technocare tricks Apk is particularly compatible with Samsung handsets. At some point in your life, you may have encountered "forgotten smartphone security difficulties."
You would have taken your phone to a professional to be unlocked in that scenario. You may now use this app to unlock your Android smartphone from the comfort of your own home. Breaking the security of newer and more recent Android OS, such as Rio (8.0 or higher) and Pi (9.0), is tough, but not impossible using this app.
What is Technocare Tricks APK?
There is no difference between Technocare APK and Technocrat Tricks APK; they are two distinct titles for the same application. This is a different name for the Android application. On Android devices, this app leverages Bypass FRP to work faster than other apps.
Technocare Tricks is an Android software designed for specific smartphone and tablet models. As a result, it is not compatible with all Android phones. However, after resetting your device for telephones, one of the greatest techniques is to avoid Google Account Verification.
The best part is that you can download and use it for free. There are also no hidden costs or in-app purchases. This is a basic and lightweight application that takes only a few minutes to install or download.
However, because it is fairly tough to use, you should learn how to do so from a reputable source or an expert. Otherwise, you risk causing greater harm to your phone.
Technocare Tricks APK Screenshot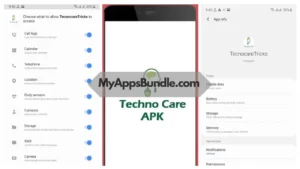 Technocare Tricks APK Features
Free APK.
The application is easy to use to bypass FRP.
Great user interface and is easy to use.
The most trusted app to unlock Google Account Verification.
No registration is required to use this application.
An easy way to remove FRP removal.
The APK size is only 28.5 MB.
How to use a test application
This APK supports most Android devices.
This app contains no ads.
Conclusion
FRP unlocking and bootloader unlocking are both done with the Technocare Tricks APK. Our website has the Technocare apk file for download. Our users may rely on us to offer them completely safe programs. When it comes to FRP locks, Technocare is the best option. Don't waste your time with other FRP unlocking programs; instead, download this fantastic app and use it to install custom ROMs and stocks on your phone.
You May Also Like to Download