XNSPY APK Android Spy App Download (2022 Updated). The best thing about any Android app is the frequent updates that make it better than its previous version. XNSPY is an Android spying app that follows this practice and delivers regular updates to offer the latest features and fix the current bugs.
XNSPY has recently released its latest APK version 3.0 for its users. The new APK version comes with many improvements in every aspect and with all the bug fixes. Here are some of the prominent highlights of the latest APK version.
Addition of Remote Control Features
The XNSPY developer team has been working hard lately to offer additional features you can use remotely. Here's what you will get in the latest Android APK file.
a. Wipe Phone Data
Remote mobile phone data wiping is one of the most anticipated features of spying apps. Finally, XNSPY has successfully added this feature in its latest update. Now, you can erase data from any device remotely.
You can use this feature to wipe data from your kids' smartphones if you find something suspicious or inappropriate. Moreover, this feature can also be used when an employee leaves the company.
You don't have to physically access the phone to clear the company's private data on the officially given devices. You can learn more about the utility of Xnspy's data-wiping function on their official website.
This feature can be accessed from Xnspy's dashboard. It's available under the "remote control" features tab. Simply open the dashboard from your user account and click on the "remote control" feature.
Record Surroundings
Record surround is another latest feature that XNSPY has added in its latest version. This feature can record all the audio details around the targeted device with the help of both mics. With this feature, you can help the person you are spying on if he gets into any trouble.
The record surround feature is also available under the "remote control" tab. It's visible on the right side of the "Wipe phone" option.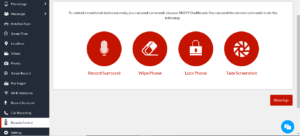 2. Tinder and Snapchat Support
Tinder is the most famous and widely used dating app globally. Millions of people around the world use these apps, and many of them are even already in relationships. In its latest release, XNSPY has added complete support for Tinder monitoring. Now, you can install this application on your partner's smartphone with their consent to ensure that they remain loyal to each other.
Additionally, XNSPY has increased its support for Snapchat. Now you can spy on everything the targeted user does on Snapchat with its comprehensive screen recording feature. It includes conversations, stories, calls, and the spotlight. Xnspy may also add support for other third-party social apps in the future.
3. Elimination of Current Bugs in XNSPY APK
Software bugs will always remain there no matter how good an application becomes. XNSPY had some bugs in its previous APK release. Users were facing issues with occasional lagging and real-time synchronization. However, XNSPY has fixed all those performance issues.
There were also some issues with mobile data connectivity. Now they are resolved with the new release.
4. UI & UX Tweaks
Lastly, XNSPY has also made some refreshing changes to its UI & UX design in the latest version. The apps look much cleaner, and it's more user-friendly now. Focusing on the Material design philosophy, Xnspy uses solid colors in its UI which makes the app and its dashboard look pristine. Check out the below screenshots to know what's coming your way.
a. Minimalistic design

b. User-friendly Interface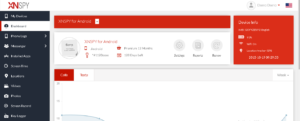 c. Drop-down menu
How to Get XNSPY APK for Monitoring Purposes
As discussed earlier, XNSPY is not available on Apple App Store and Google Play Store. Moreover, you cannot even get it from any other 3rd party APK websites. So, how to get this spying application?
Well, there's only one way to get this application, and that too from the official website. Here is how you can get its APK file to download and install on an Android device.
Enter the URL xnspy.com in your browser.
Find and click the green button on the top right corner with the "Buy Now" option.
You will be routed to the "Buy Now" page. Select any plan according to your budget and proceed further.
Fill out the form and enter your credentials.
After completing this process, you will receive an email at your given email address.
Open this email on the targeted device and download the APK file given in the link.
Now, install the APK file, and follow the instruction to set it up.
XNSPY will take some time to transfer data from the device to your user account.
Once the installation is complete, you can log in to your user account from cp.Xnspy.com to monitor the Android device.
The latest 2022 APK update of XNSPY is one of the most comprehensive to date. It has many significant changes according to user expectations, which you will experience while using it. Try XNSPY now to get the ultimate monitoring experience and spy on all instant messengers and mobile apps today!
Download Also: